chocolate crepes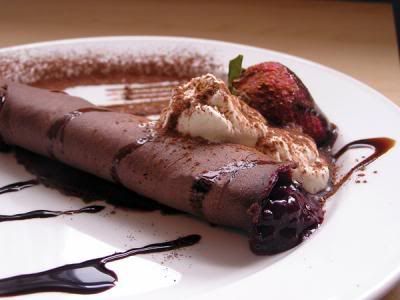 | | |
| --- | --- |
| | Crepes: |
| | 3 eggs |
| | ¾ cup water |
| | ½ cup half & half cream |
| | ¾ cup plus 2 tablespoons all-purpose flour |
| | 3 tablespoons cocoa |
| | 2 tablespoons granulated sugar |
| | 1/8 teaspoon salt |
| | 3 tablespoons butter, melted and cooled |
| | Vegetable cooking spray for cooking |
| | |
| | Fruit compote or fruit pie filling |
| | Whipped cream for topping |
| | |
| | Chocolate Sauce: |
| | ¾ cup sugar |
| | 1/3 cup cocoa |
| | ½ cup plus 2 tablespoons evaporated milk |
| | ¼ cup butter |
| | 1/8 teaspoon salt |
directions:
Crepes:
1. Combine eggs, water and cream in blender; blend 10 seconds. Add flour, cocoa, sugar, salt and butter; blend until smooth. Let stand at room temperature 30 minutes.
2. Spray 6-inch crepe pan lightly with vegetable cooking spray; heat over medium heat. For each crepe, pour 2 to 3 tablespoons batter in pan; lift and tilt pan to spread batter. Return to heat; cook until surface begins to dry. Loosen crepe around edges; turn and lightly cook other side. Stack crepes, placing wax or parchment paper between each. Keep covered.
3. Just before serving, place 2 tablespoons fruit filling onto each crepe; roll up. Place crepes, seam-side down, on dessert plate. Drizzle with chocolate sauce and top with whipped cream.
Chocolate Sauce:
Stir together sugar and cocoa in small saucepan; gradually stir in evaporated milk. Add butter and salt. Cook over medium heat, stirring constantly, until mixture boils. Remove from heat.